Traffic Cardinal interviewed Jitendra Singh, founder of Dgpanda.com, social media marketing expert by profession, who has expertise in cracking deals in Tier-3 city with Facebook ads. His motivation quote is: "Every success story is a failure story if you think you can do better."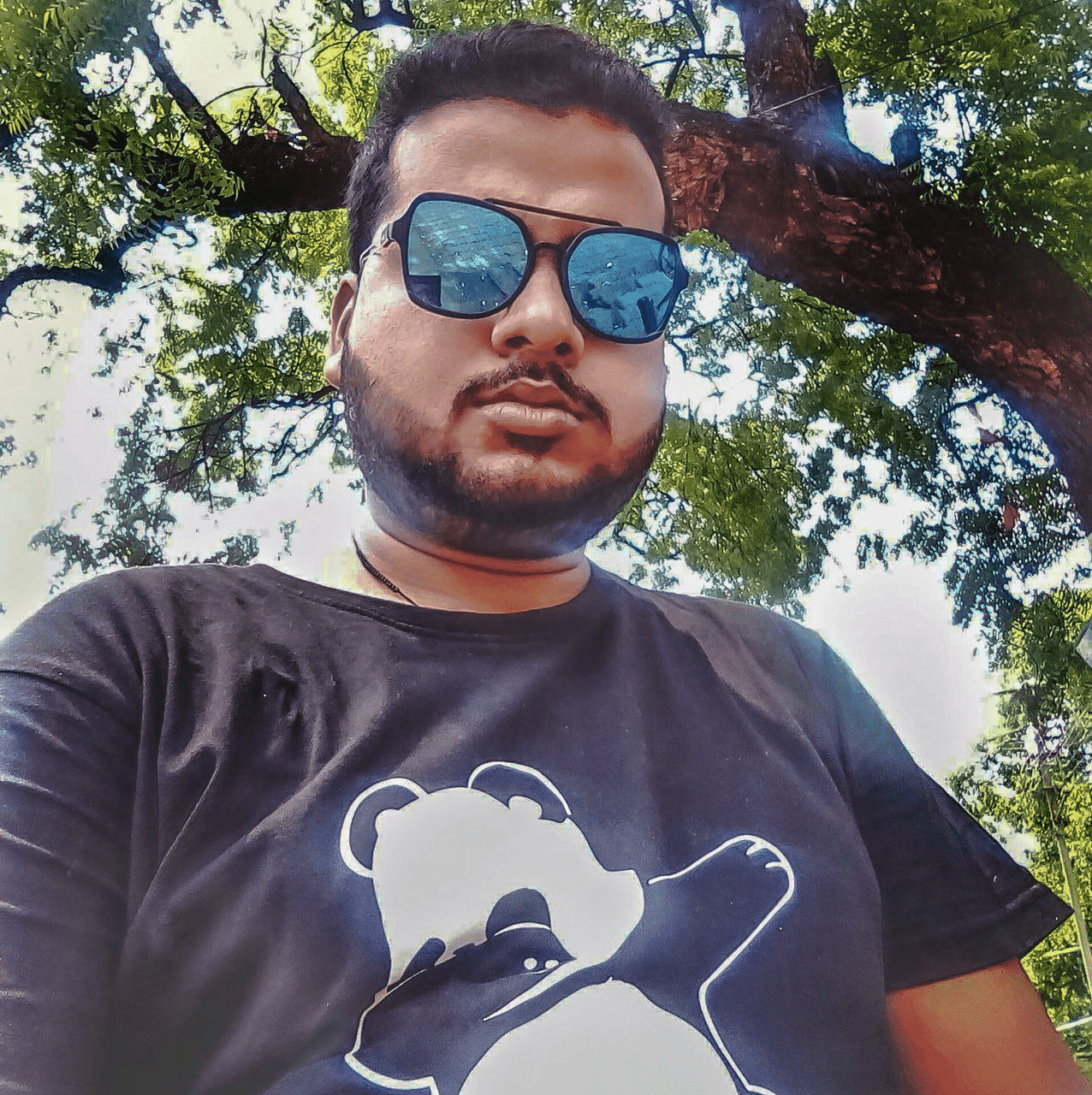 Vadim Korepov: Hi, Jitendra! A while ago you mentioned that you specialize in social media marketing. How long have you been practising this hugely popular way of making money online?
Jitendra Singh: Hi, Vadim! I have been practising it for the past three years as well as SEO, and after 2016 I am fully exercising social media marketing for clients - to promote their business, to get leads for their business and many more.
V: What niches do you usually work with?
J: I love to work with real estate, restaurants, gym and coaching.
V: Well, that's interesting. And what social media platforms do you prefer?
J: There are many platforms which I use, but Facebook and Instagram are the best.
V: Taking into consideration demographic differences between FB and Insta audience, such as gender and age priorities, can you say that some niches are more convertible on Facebook while the others on Instagram?
J: Yes, there is a massive difference between Facebook and Instagram audience. For example, real estate ads are more convertible on Facebook than on Instagram. And vice versa, fashion and clothing ads are more convertible on Instagram. As people follow a top brand on Instagram, it's easy to target the specific users there.
FB Demographics, 2018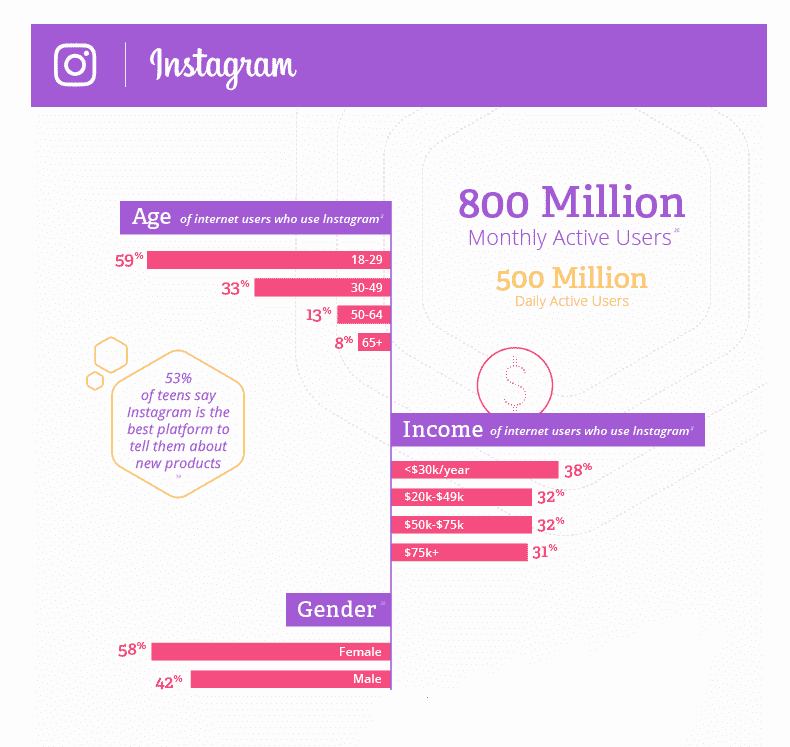 Instagram Demographics, 2018
V: Which format of Instagram ads is more effective: News Feed ads or Stories? And for which niches?
J: For real estate news feed ads are more effective, but nowadays messenger ads work more efficiently on Facebook in term of conversion. News feed ads are like the gem, because the maximum ATP we get in News feed is about 4 to 9 sec, while in story ads we have only a chance of conversion if the copy of the ad is highly engaging. But for clothing and products, story ads always work fine, because users get what they want in a limited period before going through another person's story.
V: Yeah, I heard that messenger ads are becoming more and more popular. Can you give an example of messenger campaign?
J: There are lots of third-party messenger bots in the digital world, like "Chatfuel", "ManyChat", etc. I used the third party bot "ManyChat" and set it up for the ads. People, who respond to my ads get the first notification: "Hey, how are you?" He/She responds something like "Fine/ Good/ Excellent", then my all-automation starts to put another question: "What kind of property are you looking for?", then automation message suggests: "Flat / Plots / Commercial / Rent". When a person responds, my ads copy image comes into action, and on an average for every 50 visitors, one conversion takes place.
V: What were your targeting settings for this real estate campaign? How did you choose the audience for messenger bot?
J: Well, at first I targeted people who are connected to page with a message ads, then I forwarded my ad copy to them. After that I used informative call to action to get people engaged with my ads on chatbot. If they started to respond, I showed image related to their call to action with my Ad set up in bot and in that fashion got my messenger ads work. And targeting real estate person is really a tough call, you have to do a lot more ad testing for your ads and analyze which ads are working good for you. Best experience of targeting is to target the competitor or big brand in the industry which they usually add in their interest zone. In India big brands like Housingdotcom, 99Acres, even OLX are good brands to target and get engagement for the clients they are followed by all over India.
V: Can you single out any feed ad format (photo/video/carousel) as especially popular among the users?
J: As for me, carousel ads work better than video ads. Carousel ads are highly engaging if you plan your things right. It's my personal experience as well as global statistics data. I've also started with video ads and all works fine at the stage of targeting people, but when it comes to lead generation, I find the difference in numbers. When I start my lead generation with video ads, I get fewer leads in comparison with carousel ads. In my point of view, people can engage more through carousel ads rather than video ads, while video ads are good for brand awareness.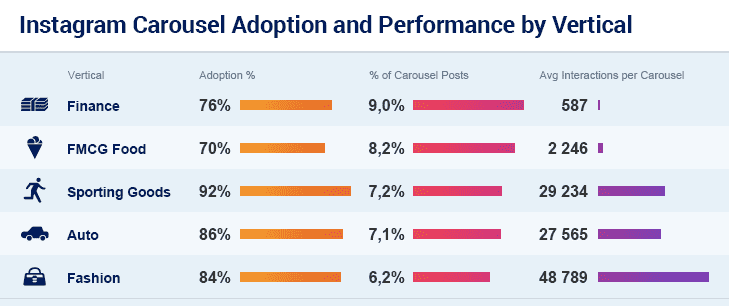 Time period: 4 months. Sample: 50 largest profiles per each industry. Statistics performed by Socialbakers.
V: So you carry it out in 2 stages: video ad for brand awareness and carousel ad for lead generation, right?
J: Yes, actually I use video ads for brand engagement. Then I push the audience into leads - those who viewed my video 50% or above. In this way, I get the expected conversions. I used also a video creative for website conversion, but it didn't work in Tier-3 city. So I changed my strategy to make engagement first and then force them to leads.
V: In which way do you force them to leads?
J: I force them to leads by driving offer to them. For example, if a person is thinking of a house to buy, then I should offer some kind of discount for registration, so that they get engaged with my ads. Then, after they come to my funnel, I show up all my details with a call to action "Sign up now" or something like that and get more.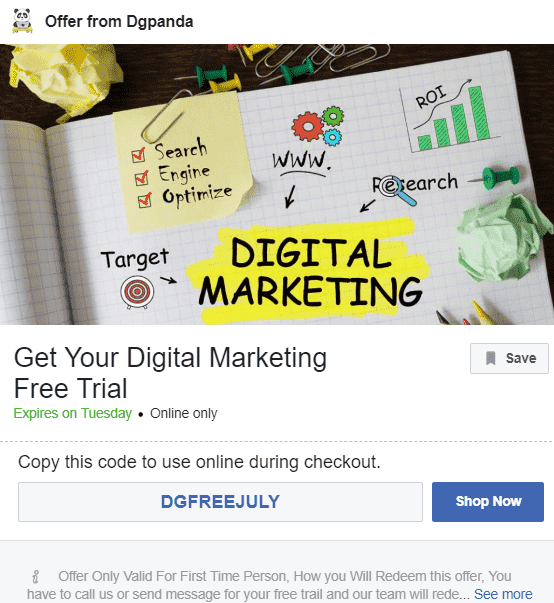 Example of lead generation campaign for DG Panda agency
V: What was your maximal budget so far that you spent a day/ a week on ad promotion on social media?
J: My maximum budget for the day is limited to only 1.46 $. I concentrate on how my ads perform every day rather than spending all in one day.


Latest spending over Real Estate ads
V: Can you specify the details of one of your campaigns with such budget?
J: This ads copy was for the Arts and Design Institute. I started with an offer that sounded like "Get 20% off if you apply now". After creating my ad creative, I started to build a funnel where I explained all the details of the course. After that, I added the call to action "Apply now and get 20% off on your fees". Sometimes people understand what they get, but often they don't. For that, I started retargeting ads, and that was about users who visited my A URL but didn't visit My B URL. While retargeting I made an ads copy of "Hurry up today" offer, targeting people who live in my specific location: city and neighbourhood area, because the institute wants people around my town. After that I specified age targeting to 17-20-year-old people because the course is professional and skill-developing, the applicants can register unless they are school passed or had done graduation. After that, I targeted people interested in art, sports and media as well as some of the competitor's audience, like Zee Institute of Creative Arts. I set a budget of 1.46$ per day and I got 15 leads after 7 days of running ads, and as a result, 3 people got enrolled for the course, which makes the ROI of the ads super amazing: $10.21 spent and $1049 got by the Institute.
V: So you specialize in cracking deals in Tier-3 Indian cities, what are the peculiarities of targeting the audience for small local businesses?
J: My strategy is to target people for my startup: people interested in social media marketing. So I made an ad copy of "30% Off" in all social media marketing plans before starting the campaign. I started my retargeting ads with an offer of "40% off today only". I know it's hard to get business in Tier-3 because here your relevance score is meagre. So get ready to burn your money first, but I got leads at a very compelling price and there were converting leads too. I targeted people 25-35 years old and those who added a small business owner as their behaviour. Further, I narrowed down to people who are Facebook page admins - this made my idea to deliver to the right people. My strategy is simple: people who manage page know the value of ads and boosting. So I provided my ads to those people only. And the result was impressive - I had been running that campaign for 7 days and spent $10.21, which gave 5 leads, and I converted one lead with a value of $729.33. This is what I got after spending 10$ for 7 days, which is fantastic. After that, I started making people happy with my skills and Facebook and Instagram marketing.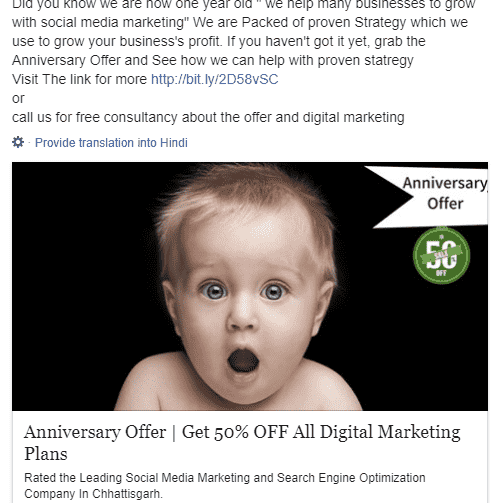 Example of ad copy for a target ad by Jitendra Singh
V: Which traffic sources can you cite as alternatives to Facebook and Instagram in India? Webmasters often complain about FB extensive banning policy.
J: I used Google AdWords as an alternative, and then I started targeting people through the pixel. This is my best alternative source for getting traffic and if it also doesn't work, then SEO is the best tool for me to get traffic.
V: Have you ever had your AdWords accounts banned?
J: No, I haven't faced any issue with my Adwords account, because I use it only when my Facebook ads are not performing well to get visitors from the desired keyword and track them through pixel for conversion.
V: As for pixel campaigns, do you usually retarget the website visitors or build lookalike audience? What ROI do you have with such campaigns?
J: I usually retarget website visitors, and ROI of such campaigns is excellent as compared with targeting ads.
V: What is your ROI in numbers for pixel campaigns?
J: In number I must say that 6:10 on an average, sometimes it increases and sometimes it decreases too.
V: According to Forrester, Instagram has the highest engagement rate among all social media platforms. So, it's not surprising, that a new trend is developing now - Instagram Influencer marketing, when the marketer approaches the influencer and asks to publish the post, so-called shoutout. Have you tried this method and if yes, what were the results?
J: Yes I had done a shoutout for my clients and it's very active in terms of brand awareness and the result of it was just awesome. People start taking responsibility to the thing or product if the trusted and legit person does the shoutout, and right now I think the shootout is the best possible way to introduce the brand to the audience.

V: Can you recommend any Instagram influencers for certain niches?
J: As I'm only working in Tier-3 city, I don't use many influencers. But if anybody asks me about influencer, I would suggest The Screen Patti and TVF are good to invest.
V: For which niches are they good to invest in?
J: They are viral content creation companies, and they are good in any niche as they can create content for any niche and make the brand go viral in a day.
V: So, you're doing social media marketing for businesses. Is that only targeting campaigns or account promotion as well? If your activity includes the latter option, then which tactics do you use to build a strong following on Instagram?
J: My tactics are to use Instagram to deliver my content strategy. If you don't have a content strategy for Instagram, then you are not able to get more followers for your business. People don't want to view direct marketing nowadays and for that, we have to build a content strategy for Instagram. If a person follows you only because you are a brand - it's not possible nowadays. People want something good to give you trust as a follower. Building a good content strategy is suitable for Instagram as people there are highly active and more engaged because of their format of the only image. If your picture is good and also contains some useful knowledge for the client, then I am sure that they will follow you blindly and also make a good reputation among others. According to a survey, people recommend the business which they like on social media to others more often. A tactic of using hashtags like #wordoftheday #insightoftheday #factforyou is the best possible content strategy nowadays posting content relevant to business.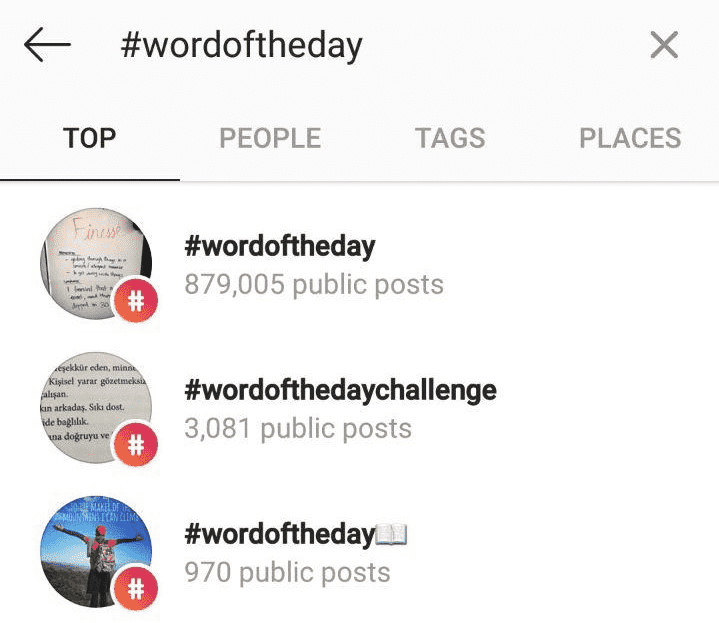 Number of Instagram posts which contain hashtag #wordoftheday
V: Some social media ads experts, such as Ted Rubin or Brian Carter, predict that the future of social media marketing belongs to Snapchat. Have you ever tried it as a marketing platform?
J: No, I haven't tried Snapchat as my marketing tool because of low influence in India.
V: What other social media networks (except FB and Instagram) are popular in India? What networks are worth investing?
J: Except Instagram and Facebook, LinkedIn and Twitter are popular networks in India. When it comes to target people all over India, then these four networks are worth to invest in.
V: What social media marketing tools can you recommend?
J: Gramboard for Instagram automation, Power Ads Spy to spy your competitor ads. I use them too and I would recommend others to use these tools for the growth of the social media, whether using it alone or for the business, and IFTTT for cross-posting to another platform.
V: Thank you so much for sharing your knowledge. Hope we'll catch up at next MAC India conference.
J: Well, thanks from my side that you picked me to share my knowledge and experience with your audience. As I told, I am not the big giant of the industry, but I like what I can do with my work. Most of all, I love helping people in their business in the small area, and I will continue with my job as a good human being and will educate people to grow their business with digital marketing.