Recent research shows that Pinterest is the fourth largest social source (beating Twitter) for traffic on Shopify.

Pinterest also has the second highest average order value among social media platforms.

To benefit from this social media, build your Pin strategy:
1. Use Rich Pins
Rich Pins must contain detailed information about your products. Include real-time pricing and stock availability, so that your customers could benefit from Product Pins.
There is another advantage of Rich Pins - price notifications. If you cut the price down, customers who repinned the product image will receive an email from Pinterest notifying them of the price drop and prompting them to buy.
2. Be smart
Working with Pinterest, remember simple and old rule: quality over quantity. Make sure your strategy is consistent – pin all new products, engage frequently, keep it fresh. Learn what types of images work best on Pinterest. Pay attention to niche engagement rate: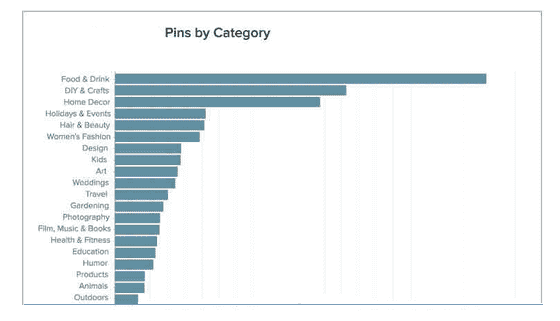 When taking and choosing photos for your business pages, make them highly Repinnable. Here's the list of factors that make an image Pinterest-worthy:
Keep it anonymous. Pics without faces receive 23% more repins than those with faces.

Colour strategy. Pics with multiple dominant colours are repinned 3.25 times more than those dominated by a single color, and worm (red-yellow-orange) images rank higher than cold (blue-green-violet).

Select right size. Images on your business pages must be at least 600 px wide with the optimal Pin width being 736 pixels (the maximum display size). Taller images are more likely to be repinned.

Listen. Pay attention to your analytics, either through your Pinterest business tools or via other apps like Piqora, Tailwind, or Curalate. Single out what resonates with your audience specifically.

Timing is essential. The time intervals 2-4pm and 8-11pm are the best times to Pin, but it depends on where and who your clients are. Pinterest research also assumes that certain verticals perform better on specific days of the week.

Create a blog. Use it as a place to create beautiful content for your Pinterest boards. Even if you're not a designer or photographer, you can use tools to help create engaging content.
Designer Moorea Seal says: "Clear, clean product images on a white or light grey background plus an editorial view of products either in a natural environment or on a person give customers two styles of photography options for pinning to their boards."
3. Embed Lifestyle
Try to inspire your audience, don't just sell to them. Make boards around lifestyle themes that include your products, rather than just product boards.
4. Run Contests
Contests are perfect to increase engagement on Pinterest. Check Pinterest's contest guidelines at first. Certain types of contests are not allowed as spammy behaviour.
Contest tips:
Promise worthy gift.

Check large brands in your niche for contest ideas and get inspired.

Use Apps like Gleam.io, Woobox or Wishpond. They can help organize your contest and host it on your website or Facebook business page.
5. Use power of Influencers
Partner up with Pinterest influencers and bloggers to give your product some shoutout on the social network. It's pretty efficient for brand awareness. Choose those whose audiences resemble your desired customers.
6. Engage with your audience
Contributeto other Pinners' boards - it can also gain more exposure for your brand. Encourage your followers to share images of themselves with your product and promise some prizes. It's highly recommended for fashion brands to collect alternate, accessible images of products worn by real people.